---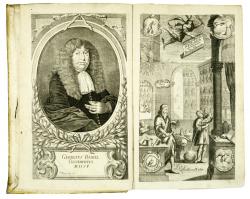 Vollständige und nutzreiche Apotheke/ oder: Trefflich versehener Medicin-Chymischer höchstkostbarer Artzney-Schatz, nebst D. Friederich Hoffmanns darüber verfasseten herrlichen Anmerckungen in fünf Bücher eingetheilt ... Darinnen sowohl die einfachen Stücke der Metalle und Mineralien ...
Eur 3,000 / USD 3,600
The price shown does not include 9% V.A.T. As a result of the EU legislation we are required to charge our EU customers 9% V.A.T., unless they possess a V.A.T. registration number.
Zweyten Edition. Franckfurt und Leipzig, bey J. Hoffmanns und E. Streckseel, 1709. Folio. (16), 1324, 120, 60, including 1 engraved frontispiece portrait, 1 extra engraved title, showing the interior of a pharmacy, and 49 engraved plates with over 400 figures. Contemporary vellum, spine with old written title.
Das beste und meistgebrauchte Apotherhilfsbuch des 17. und 18. Jahrh.
A very fine copy of a most important pharmaceutical work, used by all German pharmacists at the end of the 17th and throughout the 18th century. 'Das beste und meistgebrauchte Apotherhilfsbuch des 17. und 18. Jahrh. Es gibt völlige und erschöpfende Auskunft über alle Tätigkeiten des Apothers in diesem Zeitalter' (Ferchl p. 487). This is the second German edition by Georg Daniel Koschwitz. Two plates show pharmaceutical instruments, one plate animals and the others over 400 plants. It is rare to find this work in such a fine condition as most copies were heavily used.

Nissen BBI, 1809.