---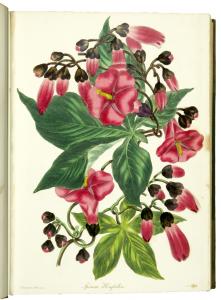 Eur 14,000 / USD 16,800
The price shown does not include 9% V.A.T. As a result of the EU legislation we are required to charge our EU customers 9% V.A.T., unless they possess a V.A.T. registration number.
London, W.S. Orr & Smith, 1834-1849. 16 volumes. Royal-8vo. With 717 (25 doublepage) fine handcoloured plates of flowers, 6 plates (5 coloured) of garden designs and numerous woodcuts in the text. Contemporary green half calf, marbled sides, spines with 4 raised bands, gilt lines and lettering.
beautifully illustrated periodical
Nice set of this famous and beautifully illustrated periodical. In the advertisement of the Xth. volume we read: "The character of the Embellishments of this work has at length been brought almost as near to perfection as possible to attain. It is indeed, suggested by some of our friends, that they are occasionally too beautiful; and that the plants they represent are not ordinarily so handsome as they are here depicted".

Sir Joseph Paxton (1803-1865) was head gardener to Duke of Devonshire at Chatworth, where for example he achieved the first blooming of the 'Victoria amazonica'. He designed the Crystal Palace and became one of the leading English botanists.

Nissen BBI, 2351; Great Flower Books p. 85.