---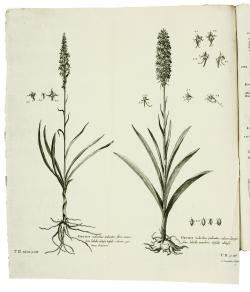 Historia Stirpium Indigenarum Helvetiae inchoata.
Eur 4,000 / USD 4,000
The price shown on each item does not include V.A.T (Value Added Tax). As a result of the recent EU legislation we are required to charge our EU customers the percentage of V.A.T. charged by the customer's country of residence, unless they possess a V.A.T. registration number. Postage Additional.
Bernae, Societatis Typographicae, 1768. 3 volumes (bound in 2). Folio. (I:) pp. (4), lxiv, 444, with engraved title vignette and engraved plates 1-20; (II:) pp. (2), 323, with engraved plates 21-44; (III:) pp. (2), 204, with engraved plates 45-48. Contemporary half red calf, spines with 6 raised bands and gilt lettering.
First edition of this beautiful work on the Flora of Switzerland
Nissen BBI, 774. First edition of this beautiful work on the Flora of Switzerland, in which Haller describes more than 2486 species of which many new. Haller was a student of Boerhaave and informs his readers as follows: 'I described all the plants that I had collected, from their natural characters, as Boerhaave had taught us to do at Leiden'. "As a result of his continuous travelling Haller acquired an intimate knowledge of the flora of the Alps, a knowledge which profoundly influenced his biological outlook. ... In his great Swiss flora of 1768 he draws the parallel between the altitudinal zonation of the plants in the Alps and the zonation from north to south in the holarctic flora region" (Stafleu. Linnaeus and the Linnaeans p. 247). The work extensively describes the orchid alpine flora and 23 of the beautifully engraved plates are devoted to this subject. A good uncut copy of this scarce work.