---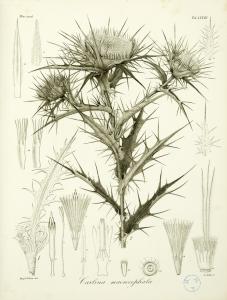 Flora Sardoa seu Historia Plantarum in Sardinia et adjacentibus insulis vel sponte nascentium vel ad utilitatem latius excultarum.
Eur 8,200 / USD 8,600
The price shown on each item does not include V.A.T (Value Added Tax). As a result of the recent EU legislation we are required to charge our EU customers the percentage of V.A.T. charged by the customer's country of residence, unless they possess a V.A.T. registration number. Postage Additional.
Taurini, ex Regio Typographeo, 1837-1859. 3 volumes. 4to (270 x 208mm). pp. xii, 606; 562, (2); 564, with 114 engraved plates after drawings by M. Lisa and J.C. Heyland, and engraved by S. Botta, L. Fea, H. Mil and A. Nizza. Contemporary half calf, marbled sides, spines with gilt lines and red gilt-lettered label.
It is the first and only major flora published of Sardinia and adjacent islands
First and only edition. It is the first and only major flora published of Sardinia and adjacent islands. Giuseppe Giacinto Moris (1796-1869) was professor of Botany at Turin University and director of its botanical garden. J.C. Heyland, one of the two artists, illustrated most of the work of De Candolle. 'His finest drawings, however, are to be found in E. Boissier's 'Voyage Botanique dans le Midi de l'Espange' (1839-45)' (Blunt & Stearn p. 193). The work is a great rarity and Junk in his catalogue 'Bibliographia Botanica' of 1909 offers a copy at 80 Marks, a copy of Savi 'Flora Italiana' is advertised at 150 Marks.

Provenance: Massachusetts Horticultural Society, Strickney Fund 1893, with bookplate and small circular stamp in lower margin of plates, not affecting the illustration; Robert de Belder.

Nissen BBI, 1410; Great Flower Books, p. 69; Stafleu & Cowan TL2 6329.