---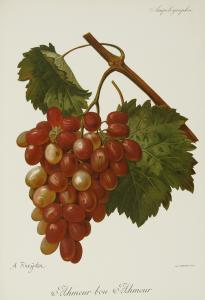 Ampélographie, traité général de viticulture.
Eur 15,000 / USD 15,800
The price shown on each item does not include V.A.T (Value Added Tax). As a result of the recent EU legislation we are required to charge our EU customers the percentage of V.A.T. charged by the customer's country of residence, unless they possess a V.A.T. registration number. Postage Additional.
Paris, Masson, 1901-1910. 7 volumes. Folio (340 x 245mm). pp. viii, (2), 729; 408; 392; 374; 358; 476; 408, with 570 plates of which 500 chromolithographed and 840 figures in the text. Contemporary brown half calf in 5 compartments with gilt lettered blue label, marbled sides.
First and only edition of the most beautiful publication on viticulture ever published
First and only edition of the most beautiful publication on viticulture ever published. Viala and Vermorel, two important French viticulturists, were assisted by a world wide group of scientists and viticulturists from a.o. Italy, Germany, Spain, Chili and the United States. The excellent plates are by A. Kreyder and J.Troncy and lithographed by l'Imprimerie Champenois. "The early French ampelographers Viala and Vermorel were able to list about 24,000 names of varieties and their synonyms in their seven-volume 'Ampélographie'... (J. Robinson, 'The Oxford Campanion to Wine', p. 30).
"Édition originale de ce monument consacré à la viticulture mondiale. L'ouvrage fut publié sous la direction des deux éminents ampélographes Viala et Vermorel. Ils ont fait appel aux spécialistes du monde entier, des propriétaires viticulteurs, des professeurs d'agriculture, des ingénieurs agronomes, des oenologues d'Italie, du Portugal, d'Allemagne, de Hongrie, d'Espagne, du Chili, d'Algérie, des États-Unis, de Roumanie, de Tunisie, de Serbie, de Russie, de Grèce etc., pour leur fournier toutes les informations concernant les cépages de leurs divers pays? un magnifique livre illustré. 570 planches hors-texte, dont 500 en couleurs, peintes par A. Kreyder et J. Troncy, admirablement lithographiées par l'imprimerie Champenois?" (G. Oberlé. Une Bibliothèque Bachique no. 276). 'Le projet de l'Ampélographie a été conçu, tel qu'il est réalisé, en 1883, il y a 27 ans, son exécution, commencée en 1900, n'est définitive qu'en 1910? Plusieurs grands éditeurs avaient eu connaissance du projet de l'Ampélographie; tous avaient renoncé à l'exécuter à cause des frais qu'entraînait pareille édition de luxe. Et l'Ampélographie n'aurait jamais paru, si un viticulteur dévoué n'avait assumé les charges matérielles considérables qu'a nécessitées cet ouvrage. M. V. Vermorel a voulu que l'Ampélographie fût un beau livre' (From the Introduction). 83 authors contributed to the work. The last volume contains 'Dictionnaire ampélographie' has 24.000 names for 5200 cultivars and species. A fine copy in an attractive binding.

Nissen BBI, 2059; Simon. Bibl. Vinaria p. 60; Stafleu & Cowan 16.085.