---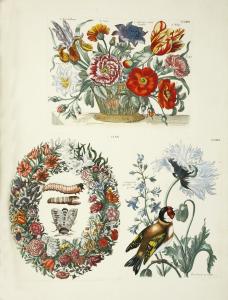 Histoire générale des Insectes de Surinam et de toute l'Europe. Contenant leurs descriptions, leurs figures, leurs differentes metamorphoses. Tome Second: DES PLANTES DE L'EUROPE (second title:) HISTOIRE GÉNÉRALE DES PLANTES ET INSECTES DE L'EUROPE.
Eur 25,000 / USD 25,500
The price shown on each item does not include V.A.T (Value Added Tax). As a result of the recent EU legislation we are required to charge our EU customers the percentage of V.A.T. charged by the customer's country of residence, unless they possess a V.A.T. registration number. Postage Additional.
Paris, chez L.C. Desnos, 1771. Folio (520 x 340mm). pp. (4), 72, with 184 splendidly hand-coloured plates printed on 47 leaves. Contemporary red half calf, spines with gilt lines and lettering, red boards.
An unusually fine coloured copy of the last edition of Merian's work on European insects. The book is a French translation of Merian's 'Der Rupsen Begin, Voedzel en Wonderbaare Verandering' (1713-1717), which was issued in 3 parts in 4to. The present work includes her earlier published 'Blumenbuch'. Maria Sibylla Merian was one of the first to observe and describe metamorphoses of European insects, portraying, describing and publishing them with painstaking precision. Her 'Der Rupsen Begin' is a pioneer study. It is dedicated to 'explorers of nature, art-painters and garden lovers'.
Maria Sibylla Merian was one of the most remarkable naturalists of the 17th and 18th century, daughter of the renowned publisher Matthäus Merian of Frankfurt. Already at the early age of thirteen she began studying insects. She became the most celebrated woman artist of her time and many of her drawings were acquired by Tsar Peter the Great. "The work of these years consisted of both scientific and artistic activity: Merian collected and raised insects, fed them with their host plants, observed them, described and drew their metamorphoses from egg to caterpillar and from pupa to butterfly imago. She then compiled her individual observations and studies in pictorial compositions" (Maria Sibylla Merian, Artist and Naturalist 1647-1717, p. 103).

The text printed on inferior paper has some browning, the plates however printed on superior paper are not affected.

Pfeiffer, M.A.. Die Werke der Maria Sibylla Merian, no. 10; Nissen BBI, 1342.