---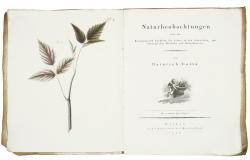 Naturbeobachtungen über die Bewegung und Funktion des Saftes in den Gewächsen, mit vorzüglicher Hinsicht auf Holzpflanzen.
Eur 1,000 / USD 1,000
The price shown on each item does not include V.A.T (Value Added Tax). As a result of the recent EU legislation we are required to charge our EU customers the percentage of V.A.T. charged by the customer's country of residence, unless they possess a V.A.T. registration number. Postage Additional.
Weimar, in der Hoffmannischen Buchhandlung, 1806. 4to (265 x 215mm). pp. (2), xiv, (2), 96, (1), with engraved title vignette and 7 hand-coloured engraved plates. Contemporary wrappers, with printed title pasted on frontwrapper.
early work on endosmose, the movement of the sap in the stem
A fine large uncut copy of this beautifully produced and early work on endosmose, the movement of the sap in the stem. Active research was being done in this field in Germany by vegetable physiologists between 1804 and 1840. The present work is 'in many respects an instructive work' (Sachs p. 509). Heinrich Cotta was the founder of the Tharandt Forestry Academy near Dresden and his son Carl Bernard became an important geologist. A very attractively illustrated monograph.

Pritzel 4925.