---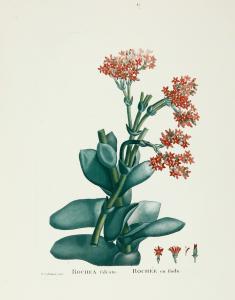 Plantarum Historia Succulentarum. Histoire des Plantes Grasses.
Eur 48,000 / USD 52,800
The price shown on each item does not include V.A.T (Value Added Tax). As a result of the recent EU legislation we are required to charge our EU customers the percentage of V.A.T. charged by the customer's country of residence, unless they possess a V.A.T. registration number. Postage Additional.
Paris, A.J. Dugour et Durand, An VII (1799-1805). 2 volumes. Folio (505 x 328mm). With 169 stipple-engraved plates by Redouté, printed in colour and finished by hand. Contemporary half calf, spines with 2 black gilt lettered labels and gilt lines, marbled boards.
by the 'Raphael of the Succulents' Pierre Joseph Redouté
First edition. A very fine complete copy of the rare Large Folio edition. 28 parts were published in folio, with 169 plates. Three further parts were published in the 4to edition almost 30 years later, which never appeared in folio. "There is no doubt, however, that the original large folio edition, as shown at this exhibition, with An VII as the date, Dugour and Durand as publishers, and 'Plantarum historia succulentarum' as the main title, is by far the best one. Redouté's name appears on the title for the first time" (A catalogue of Redoutéana exhibited at the Hunt Botanical Library, p. 16). Copies vary enormously as to the number of plates and as Stafleu indicates "one of the nightmares of Botanical bibliography ... there are hardly any identical copies". The "Plantes Grasses" is the first book of which all the plates are (with exception of plates 55 & 60 which are by H.J. Redouté) by the 'Raphael of the Succulents' Pierre Joseph Redouté. Dunthorne writes of the work as "a most important work and from the view of technique and pure colour printing Redouté's master piece". Large Paper copies with 169 plates are a great rarity. The Large Paper (the Longleat, Beriah Botfiled) copy which was sold at auction in 2002 contained 164 plates. This is the only issue of the work in which Redouté himself was responsible for the hand-finishing of the plates. They are conspicuously superior to those in quarto format. A very rare complete copy in excellent condition.

Great Flower Books, p. 53; Dunthorne 241; Stafleu & Cowan 983; A catalogue of Redoutéana no. 6.