---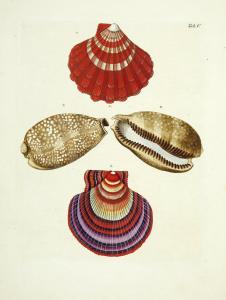 Verlustiging der oogen en van den geest of verzameling van allerley bekende Hoorens en Schulpen, die in haar eigen kleuren afgebeeld zyn. Thans nagezien, verbeterd, vervolgd,en met een geheel nieuwe nederduitsche beschryving uitgegeven.
Eur 12,000 / USD 13,800
The price shown on each item does not include V.A.T (Value Added Tax). As a result of the recent EU legislation we are required to charge our EU customers the percentage of V.A.T. charged by the customer's country of residence, unless they possess a V.A.T. registration number. Postage Additional.
Amsterdam, Erven van F. Houttuyn, 1770-1775. 6 parts (bound in 3 volumes). Large-4to (262 x 200 mm). With 190 handcoloured engraved plates. Contemporary mottled calf, richly gilt ornamented spines with gilt lettered labels (a bit rubbed).
One of the most decorative works on shells. Of this splendidly produced work a German, French and Dutch edition was published. The beautifully handcoloured engraved plates depict nearly a thousand shells. The last ten plates, which were published after Knorr's death, have a dark brown background in contrast to the illustrated white shells. The extraordinary quality of the plates represent the eighteenth century continuation of the tradition of Dürer, and it is scarcely an exaggeration to say that the beauty of some of Knorr's illustrations exceeds that of their models. Most of them are after drawings by the author, C. Dietsch and J.C. Kleemann. The portrayed shells come from famous Dutch cabinets such as the one of Martin Houttuyn, physician of Amsterdam, who had a very large collection of shells, containing many rare species; the cabinet of W. van der Meulen, a wealthy merchant of Amsterdam; the cabinet of J. Brandt, druggist of Amsterdam. Also from the cabinet of J.P. Breyn, physician of Dresden, as well as the cabinets of Schadeloock, Muller and others. Many of the shells come from the Dutch East- and West Indies.
Peter Dance in his work 'Classic Natural History Prints: Shells' (p. 18) describes no. 1 of plate 6 in part 6 as follows: "Occupying the centre of the plate is the most coveted shell of the eighteenth century: the Matchless Cone, Conus cedonulli. The specimen depicted here was the pride and joy of Pierre Lyonet, whose shell collection in The Hague was the largest and finest in the Netherlands. So enamoured of this West Indian shell was he that he seldom allowed anyone to see it? When Lyonet's shell was sold at the auction of his collections of natural history curiosities and art objects in 1796, it fetched 273 Dutch guilders. During the same auction Vermeer's 'Woman in Blue Reading a Letter' made forty-three guilders. It may seem incredible that a picture now considered priceless could then have made less than a shell worth about the price of a good meal?".

Provenance: Each volume with 2 engraved bookplates. One a vase of flowers with monogram DP, and the other one a coat of arms with 'De Castro'.

Nissen ZBI, 2236; Landwehr 96.