---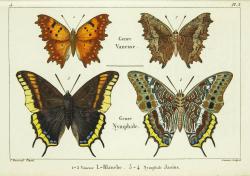 Histoire naturelle des Lépidoptères ou Papillons de France.
Eur 7,800 / USD 8,600
The price shown on each item does not include V.A.T (Value Added Tax). As a result of the recent EU legislation we are required to charge our EU customers the percentage of V.A.T. charged by the customer's country of residence, unless they possess a V.A.T. registration number. Postage Additional.
Paris, Crevot/Méquignon-Marvis Fils, 1821-1842. 11 volumes & 4 supplements (bound in 17). 8vo (215 x 130mm). With 546 (545 hand-coloured) engraved plates (and:) DUPONCHEL, P.-A.-J. Catalogue méthodique des Lépidoptères d'Europe distribués en familles, tribus et genres ... Paris, Méquignon-Marvis, 1844. 8vo. pp. xxx, (2), 523, (1) (and:) DUPONCHEL, P.-A.J. & GUENEE. Iconographie et histoire naturelle des Chenilles pour servir de complément à l'histoire naturelle des Lépidoptères ou Papillons de France. Paris, Méquignon-Marvis, 1832. 2 volumes. With 91 of (93) hand-coloured engraved plates. Contemporary uniform half black cloth, gilt lettered spines, marbled sides (a few hinges splitting but firm).
one of the finest illustrated French works on Lepidoptera
A fine uniformly bound copy of the first edition. Jean Baptiste Godart (1775-1825) published the first 5 volumes of this famous work, which was continued after his death by his friend Duponchel. Very rare set of one of the finest illustrated French works on Lepidoptera. The plates (after drawings by Baron, Delarue, Duménil, Linden, Vaillant, and Vauthier) are beautifully handcoloured. It is rare to find a set with the mostly lacking supplement by Duponchel and Guenée on the caterpillars of France. For this work Duponchel was assisted by Achille Guénée (1809-1880) and according to Lhoste 'Guénée se classe parmi les plus grands entomologistes français'. The caterpillars are shown together with their feeding plants.
'A partir de 1826, après la mort de Godart, son ami et collaborateur, Duponchel fut chargé de continuer le grand ouvrage que celui-ci avait entrepris sur 'l'Histoire des Lépidoptères ou Papillons de France'. Cinq volumes étaient terminés, il dut en ajouter 12 autres et y passa 20 ans. On y trouve 4134 espèces de Papillons d'Europe' ( J. Gouillard. Histoire des entomologistes Français. p.55).
'La première faune lépidoptérologique française ? Duponchel, qui conserva la classification de Latreille, déjà suivie par son prédécesseur, adopta aussi d'autres caractères (forme du corps, des ailles?) pour séparer de nouvelles espèces et réalisa ainsi la première faune de France, les papillons totalisant plus de 7000 pages de texte et 500 planches coloriées' (J. d'Aguilar. Histoire de l'entomologie p. 172). The supplement on caterpillars lacks 2 plates.

Apart from some occasional foxing a fine set.

Provenance: Armorial bookplate of 'Bibliothèque de Bois-Boudran', library of Comte Greffulhe.

Hagen 288; Horn & Schenkling 5587, 5589 & 5596; Nissen ZBI, 1598, 1212.